Cancun hotel suites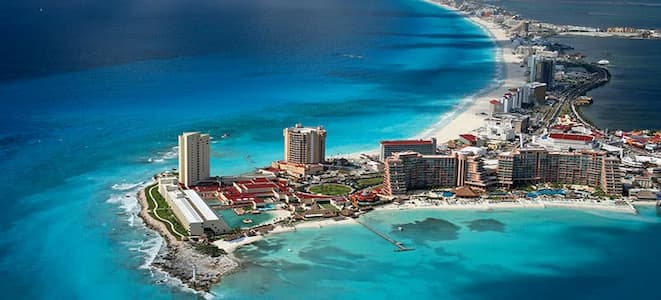 Welcome to Hotel Beachscape Kin Ha Villas & Suites, a paradisiacal place in Cancun, ideal to vacation and enjoy the Caribbean Sea and all its charm.
If you seek Suites in Cancun, you will find the best ones in the area here, accompanied by comfort, style, and quality. Every suite has free Wi-Fi, air conditioning to cool off on hot afternoons, along with the commodities you need to live a unique and unforgettable experience.
Therefore, it does not matter the reason that brings you to this beautiful Mexican destination. In our Cancun hotel suites, you can stay for work trips, weekend and romantic getaways, family vacations, excursions with your friends, honeymoons, and even special events. All thanks to the spaces furnished and equipped for those special occasions.
The excellent location of the Beachscape Kin Ha Villas & Suites Hotel offers each of our clients the best view of the Sea and its immensity. Also, it provides the best vistas to the beaches of Cancun, its green palm trees, and its water in different shades of blue and green that will make you feel in a paradise.
On the other hand, if you become a Beaschscape member, you will have a privileged treatment. Besides having personalized attention, you will receive discounts and special promotions, including 10% off on services and accommodations, 10% off on restaurants and bars, and much more.
Offers
At the Beachscape Kin Ha Villas & Suites Hotel, vacation is synonymous with economy. That is why we always please our clients with special packages, offers, and unbeatable promotions that will help you make your dreams of staying in the best Villas in Cancun come true.

You will not find anywhere else in Cancun a 4-star hotel that offers you security, comfort, professional attention, luxury services, and entertainment. All in one place and at competitive prices.
Book with us by contacting +52 (998) 8915400, where we will assist you 24 hours a day, or write to us and express your concerns to our email reservaciones@beachscape.com.mx and we will gladly answer your questions, doubts, or comments.
Feedback
We know that the only way to grow and improve our services is by considering our clients' opinions. That is why by offering them personalized and professional attention, we get the opportunity to listen to them and know what they think of the experience lived in our facilities.
For this reason, we have provided an online tab that allows all our guests to comment on our services. Thus, allowing other visitors to know, from third parties, the excellent services they receive when they arrive at the Beachscape Kin Ha Villas & Hotel Suites, the best Cancun suites hotel from Mexico.
Photos
We invite you to take a tour of our photo gallery and get to know the spaces available. There, you can delight yourself with our warm, cozy rooms and get beautiful views of the beach and the Caribbean Sea. You can enjoy such perspectives from our balconies and terraces, spa, restaurants, and spaces for events, the spectacular lodge, and the beaches surrounding the Beachscape Kin Ha Villas & Suites Hotel, among other spaces specially designed and thought to please your body, mind, and soul.
Rooms
With 4 different styles adaptable to the number of people to receive, the rooms that you will find in our hotel are as follow:
Standard (4 people maximum).
Suites 1 (4 people maximum).
Villa 2 (6 people maximum).
Villa 3 (up to 16 people).
Services
Always thinking of clients, the Beachscape Kin Ha Villas & Suites Hotel puts at your disposal the babysitting service, spa, free Wi-Fi, medical services, a house with excellent ocean views, indoor and outdoor restaurant, and gym, among others.
Events and Weddings
Either within our facilities or outdoors, we offer you the ideal place for your celebrations, weddings, birthdays, business courses, vacation plans, forums, conferences, symposia, and workshops, among others. Each space has the audiovisual technology necessary to complement and support your social or business activity.
Ask about The Kin Ha Room, the Palapa, or the Albufera Terrace, which are the most requested spaces for events in Cancun and are located at the Beachscape Kin Ha Villas & Suites Hotel. Let us know what meetings or celebrations you want to carry out; we will offer you the best option to make them a success. Book clicking here.
Spa
Whether passing through or on vacation, you cannot miss our spa to enjoy a relaxing anti-stress massage after a long day at work or a strenuous day. Besides the services available, you can also receive therapies and basic beauty services, helping you feel good inside out.
Pamper your body and mind, relax, relieve your muscular tensions, and leave rejuvenated these divine facilities, which only the best 4-star hotel in Cancun can offer you: the Beachscape Kin Ha Villas & Suites Hotel.

Location
If you still do not know how to get to the Beachscape Kin Ha Villas & Suites Hotel, we will show you our map below, in which you can better locate yourself and find more quickly those references that will bring you to us.
Our location nearby the hotel zone of Cancun eases not only the arrival of our clients. Also, it allows them to go out and walk around, enjoying the nightlife of the place; thus, expanding their possibilities for fun and recreation.